we are solar


geotechnical, mechanical installation, and pile driver experts

Solar Plantation has engineered and installed practically all types of the solar ground-mounted foundations, including driven piles, helical piles, concrete piles (sonotubes with rebar), pole-mounts, cast-in-place concrete and concrete ballasts.

Over the years we fell in love with driven-piles solar foundations. This method is fast, efficient, cleaner and has a smaller environmental footprint than many other options.

We have long-term experience working with piles. The piles and ground-mounted systems we have installed have been standing firm in Alberta soil since 2012.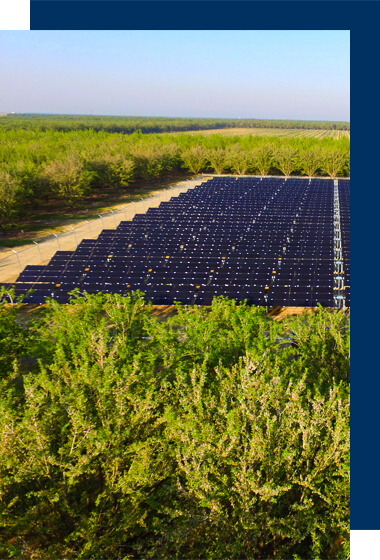 Solar pile-driving
Depending on the embedment depth and site conditions one crew working on a single GAYK pile-driving machine can install 100-200 piles per day. The speed of the installation combined with inexpensive piles deliver the most cost-effective solution.
PV MODULES MOUNTING
We provide solar modules installation services that reduce errors and maximize efficiency, while meeting all manufacturer standards.
Racking installation
Our experienced mechanical team can install racking in record times, while our engineers can suggest designs and type of racking that is optimal for a specific site.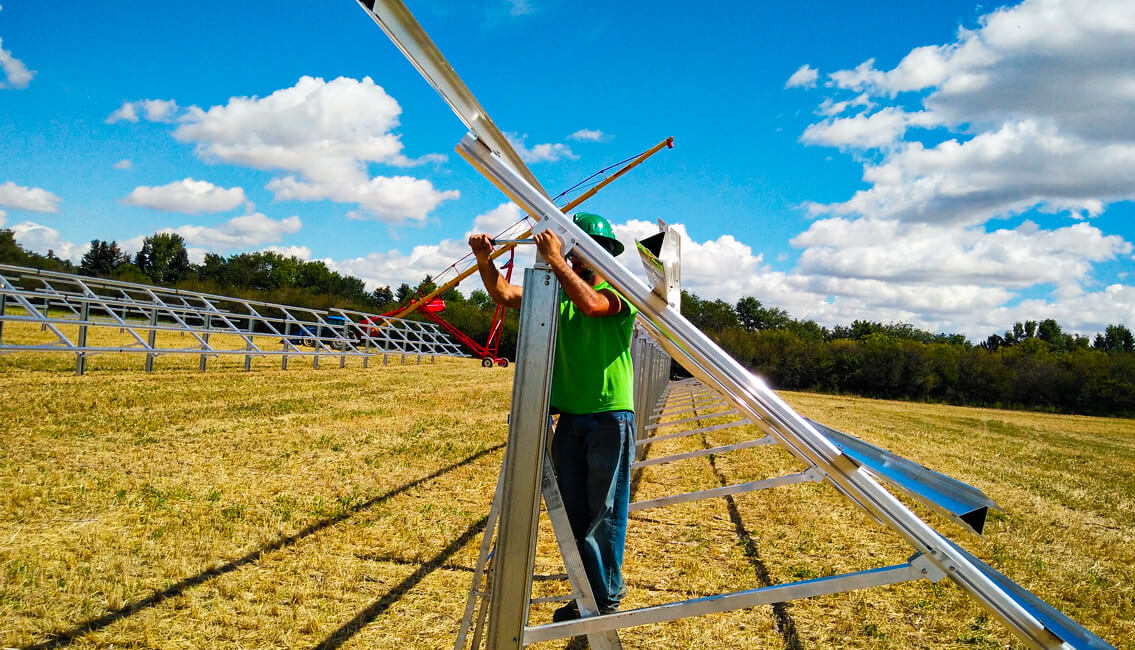 ROAD GUARDRAILS
In addition to solar power foundations, our Gayk pile-driving fleet allows for installing road barriers, safety guardrails and road signs.
Geotechnical Services
To determine suitability of pile-driving technology for a specific site and to optimize the foundation design we conduct horizontal load testing, pull-out testing, borehole soil sampling, soil lab analysis, resistivity testing.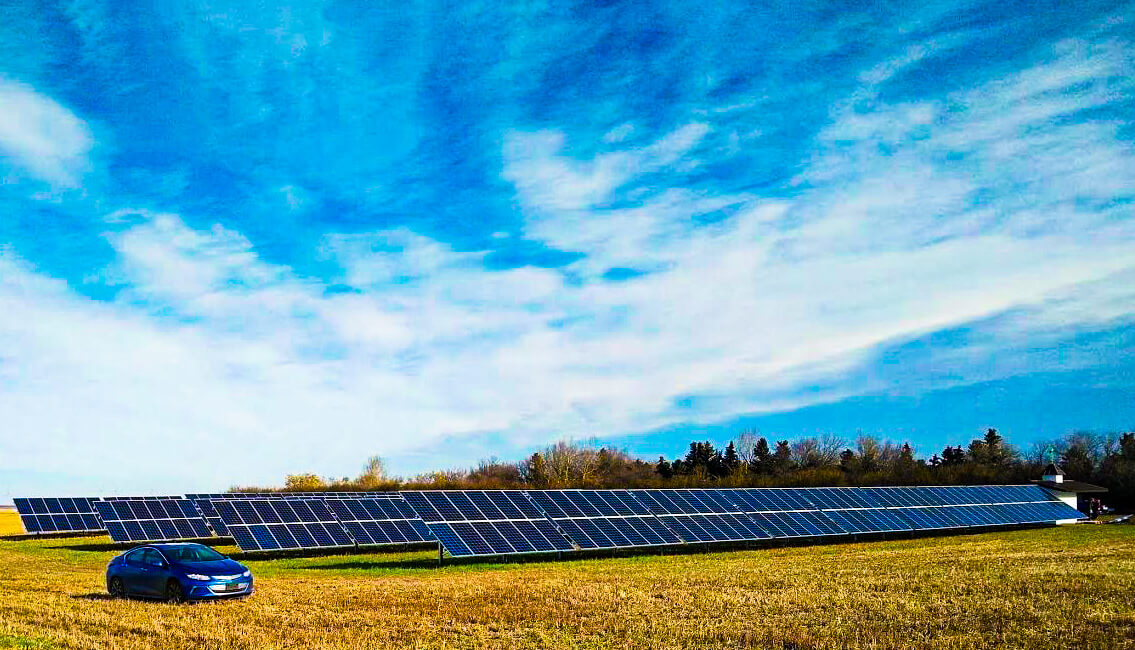 Why

Us
COST-EFFECTIVE SOLUTIONS
We offer the most cost-effective foundation solutions for solar.
PROVEN TRACK RECORD
We have installed pile-driven solar foundations in Western Canada since 2012. We have both the experience and proven performance records.
MEETING DEADLINES
We offer the highest installation speeds and efficient management of installation workflow.
SUSTAINABILITY
Our solar solutions are sustainable for the environment and your business.
THE RIGHT EQUIPMENT FOR THE JOB
We own and operate an unique fleet of pile-driving machines and equipment for site testing.
CLIENT

feedback

Solar Plantation, led by Mikhail Ivanchikov and supported by his crew, provided outstanding technical expertise and a safe, competent geo-technical investigation at our proposed PV 5 MW solar site in Southern Alberta. Working diligently from daybreak to sunset, they completed numerous boreholes and empirical test loading of driven steel piles. Subsequent to the field investigation, they complied the field and lab data, conferred with the pile/racking manufacturer to optimize the design and provided an engineered solution at minimum cost. I highly commend Solar Plantation for their work and I am pleased to use their services and recommend them to others.

We decided on using Schletter racking who recommended we consider Solar Plantation pile driving services for our driven posts. Running up against winter we wanted to ensure that the posts were installed before frost. Mikhail mobilized the GAYK and installation team to Northern Saskatchewan with limited notice and drove 160 posts into the ground in less than two days. It was a delight working with Solar Plantation's installation team and I look forward to working with them again.

Solar Plantation installed piling on 2 projects for us in 2016 totalling over 270kW of PV Solar. Mikhail and his crew were very good to work with. The customers of both projects were extremely happy with the final product. Solar Plantation showed an depth knowledge of the piling and racking system they supplied to us and the installations went without a hitch. We look forward to working with them again in the future.

Solar Plantation team and Schletter Canada have been working together for more than 5 years. Feel free to contact me on the phone for a detailed testimonial.
Latest

News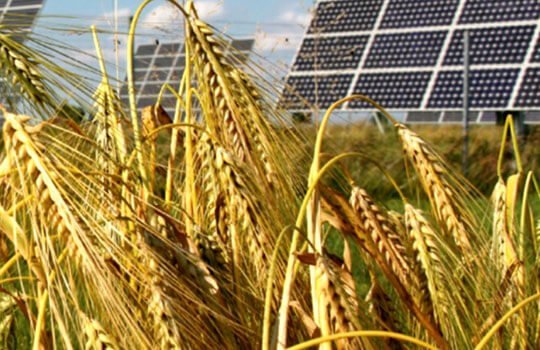 November 21, 2019
Saskatchewan harvest by Crop Districts and Rural Municipalities
This year, Saskatchewan farmers have faced the effects of seasonal changes in fallout: an abnormally dry spring was replaced by a late cool summer, which has been followed by a wet and cold autumn. These weather conditions resulted in declining yields, crop quality and velocity of harvest. Because of that, producers of the province have … Continue reading "Saskatchewan harvest by Crop Districts and Rural Municipalities"
Read More
September 16, 2019
Maple Creek Solar – Open House
Solar Plantation Inc celebrated the start-up of our 200KW solar project and our establishment in 420 Hwy 21 North, Maple Creek, Saskatchewan. If you could not attend the previous Open House on October 25th, you can look at the site video 200KW Solar Plantation in Maple Creek, request additional information about the solar project and … Continue reading "Maple Creek Solar – Open House"
Read More
Contact us for a free estimate
Contact us to learn about solar rebates. We optimize systems for your needs.
780-566-3000